Safety measures
For safe and comfortable air transportation always

Safety criteria
AERO ASAHI, based on the provisions of Paragraph 6, Article 111 under the Aviation Law, annually issues and publicizes safety-related documents. In addition, when it comes to business (private) jets, Our business jet operation has been IS-BAO (International Standard for Business Aviation Operations) certified to ensure its compliance with the safety criteria adopted by other airlines worldwide.

Our company is not only a member of the Japan Business Aircraft Association, but also a full member of the National Business Aviation Association. Safety first is the principle we always keep in mind, and our mission is to ensure guests' pleasure on the aircraft.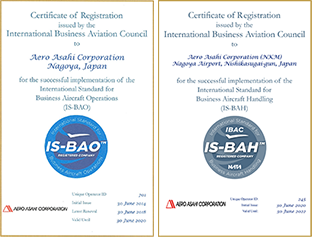 Our unique security measures
make guests 100% reassured
Experienced and trustworthy staff will try their best to make your journey safe and comfortable
Available for business negotiation

The aircraft is not shared and threats such as terrorist attacks and hijacking can be completely avoided.
For VIP users who want to keep their trips confidential, a highly private and safe mobile space is perfect.

Available for medical service

There are medical personnel and nurses on board, and patients can be referred or transported within a short period even when they are asleep.

For those active on the world stage

For guests carrying on items such as musical instruments, clothing designs, collectibles, precision parts and precious metals for racing, which require more strict security measures, business jets are definitely the best choice to ease your worries.
Achievements of
AERO ASAHI leading in the
aviation industry
In aviation business, our medical transportation services are second to none in terms of emergency medicare.
We also transport supplies to mountains and seas that are difficult to access from the ground,
and even explore other services like aerial photography and information collection for reporting.
In addition, business jet charter has recently gathered its full momentum thanks to flexible flight scheduling and private spaces.
Our aviation business has given fully play to the speed and power of aircrafts, and has been in the van all the time.